About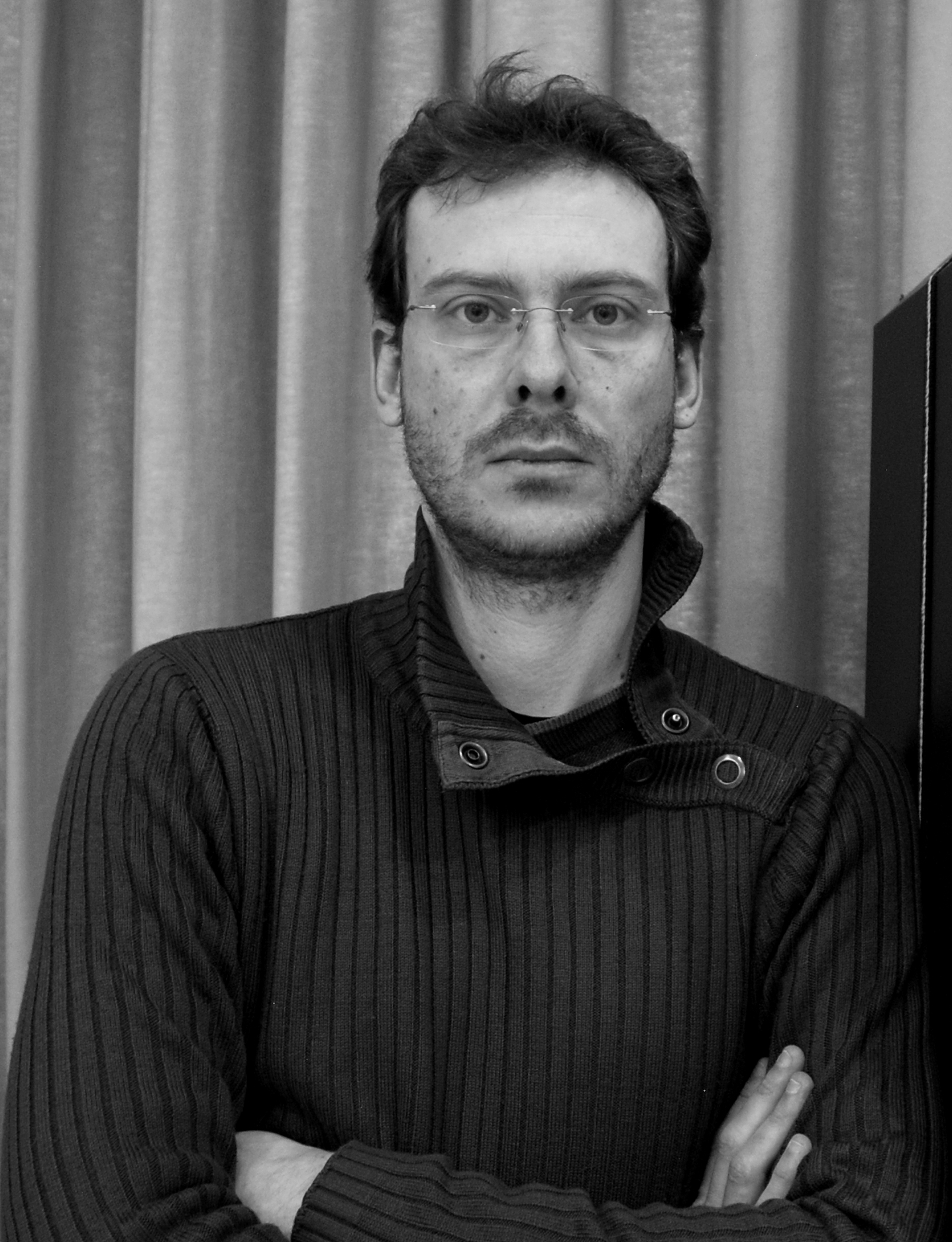 David Pirrò (*1978 Udine, Italy), is a sound artist and researcher based in Graz, Austria. His works include interactive compositions and sound installations as well as audiovisual and electroacoustic pieces in which aspects of performance and spatialisation of sound are central. Departing from a radical inclusive point of view, he seeks ways of composing by which the work of art is constructed through mutual interaction of the agents involved in its performance.
David studied piano at the Conservatory "J. Tomadini" in Udine and Physics at the University of Trieste where in 2004 he obtained the Master of Science degree in Theoretical Physics with Prof. R. Resta. From 2005 to 2006 he had a studentship at the the CSC, Centre for Computational Sonology at the University of Padua, under Prof. G. De Poli. Starting in 2006 he assisted Maestro P. Pachini in different electroacoustic and video art projects e.g. the Elastic 3 trio, and the video-opera Descrizione del Diluvio (composition M. Lanza). In 2007 he obtained the Master degree at the School of Music and New Technologies at the Conservatory "G. Tartini" in Triest under Maestro R. Doati. He obtains a PhD in computer music (tutor Prof. Gerhard Eckel) from the University of Music and Performing Arts Graz with the dissertation "Composing Interactions".
Since 2007 David is assistant professor at the IEM (Institute of Electronic Music and Acoustics) in Graz, Austria working as lecturer and researcher. From 2008 he is the curator of the "Open CUBE" concert series at the Institute. He collaborates in scientific and artistic research projects on sonification ("QCD-audio", "An Acoustic Interface for tremor analysis"), sound spatialisation ("The Choreography of Sound") interaction design in Computer Music ("Embodied Generative Music", "Klangräume").
At the early stages in his artistic activity, his intermedial works are mostly fixed-media pieces for video and electronic music. Later on and in particular starting from his work in the "Embodied Generative Music" research project, he collaborates with dancers and choreographers developing interactive compositions in conjunction with motion tracking technologies as in On Traces performed the Tanzquartier in Vienna or Bodyscapes with dancer and choreographer Valentina Moar.
In his sound installations interactivity plays a central role and is coupled with spatial rendering of sound as in Zwischenräume or the sonification-based installation Datenhörraum which was presented at the ICMC conference 2012.
Beginning in 2010 he focuses more and more on live works either in solo settings (the uselsess machines series) or in collaboration with various electronic musicians. In this context he performs with real-time dynamical systems modelling and simulation software rattle he has developed during his PhD study. He takes part in diverse still ongoing live-electronic projects and collectives (e.g. Martin Rumori and Luc Döbereiner altraconsonanza, Hanns Holger Rutz anemone actiniaria).
Exhibitions
Zwischenräume Forum Stadtpark, Graz 2013
Interstices ESC im Labor, Graz 2012.
Festivals
Darmstädter Ferienkurse für Neue Musik 2014
next generations 4.0 ZKM 2012
ICMC Ljubljana 2012
NIME Oslo 2011
ORCiM Research Festival, Ghent 2010
Impuls International Ensemble and Composers Academy & Festival, Graz, 2009, 2013 and 2015
Prizes
"Forschungspreis für HTI:Human-Technology-Interface des Landes Steiermark" (Styrian Prize for the research in HTI: Human-Technology-Interface), 2015,
Premio Migliori Laureati (Prize for best Masters) Italy 2008
Residencies
IMA Residency at ZKM Karlsruhe 2015,
RONDO Atelier Graz
Peer-reviewing
Papers:

Sound and Music Computing Conference, SMC: 2011 and 2012.
International Conference on Auditory Display, ICAD: 2012, 2013, 2014 and 2015.
International Computer Music Conference, ICMC: 2012.
Joint International Computer Music Conference and Sound and Music Conference, ICMCSMC2014: 2014.
XX Colloquio Informatica Musicale, CIM: 2014

Music:

Linux Audio Conference, LAC: 2013.
International Computer Music Conference, ICMC: 2013.
International Conference on Auditory Display, ICAD: 2015
Curatorial activity
Open CUBE Concert Series, 2008 – today
Workshops
"Performative Computer Music'' at the Impuls International Ensemble and Composers Academy & Festival, 2015.
"Composing Spatial Instruments" at the International Summer Course for New Music, Darmstadt, 2014
| | | |
| --- | --- | --- |
| 1978 |   | Born in Udine (UD), Italy. |
| 1998 – 2004 |   | Master of Science in Theoretical Physics at the University of Triest (Università degli studi di Trieste): |
|   |   | Thesis in computational solid state Physics "Open Problems in quasi-onedimensional conductors |
| 2004 – 2007 |   | Master of Arts in Computer Music at the School for Music and New Technologies of the Conservatory "G. Tartini" Triest |
| 2005 |   | Scholarship (PRIN Projekt) at the DEI-CSC (Centre for Computational Sonology) at the University of Padua, work in the |
|   |   | context of the ENACTIVE Project. |
| 2006 – 2009 |   | Assistant to composer and video artist Prof. Paolo Pachini, participation to diverse international productions. |
| 2006 – today |   | freelance artist. |
| 2008 – today |   | PhD in Computer Music, Tutor Prof. Dr. Gerhard Eckel, with working title "Interaction Composing" |
| 2007 – today |   | Assistant Professor at the Institute of Electronic Music and Acoustics (IEM) at the |
|   |   | University of Music and Performing Arts, Graz. |
|   |   | Teaching in the course of studies of Musicology, Computer Music and Sound Engineering. |
| | | |
| --- | --- | --- |
| Collaboration in various research projects: |   |   |
| 2007 – 2010 |   | "Embodied Generative Music" (FWF) |
| 2008 – 2011 |   | "QCD-Audio" (FWF) |
| 2010 – 2013 |   | "The Choreography of Sound" (FWF, PEEK) |
| 2011 – 2012 |   | "Akustisches Interface zur Tremoranalyse" |
| 2013 – 2015 |   | "Klangräume" (Zukunftsfond Steiermark) |
| 2014 – 2017 |   | "Transpositions" (FWF, PEEK) |
|   |   |   |